The Wood County Child Support Enforcement
Agency's mission is to promote the well-being
of Wood County children by providing assistance
in obtaining financial and medical support.
CSEA Opening of the Main Lobby
As we move forward, we would ask the following of our clients:
The Agency will assist anyone who calls 419-354-9270 before coming into the building. IF you do not feel well, please phone the office rather than coming into contact with other people.

Masks are required to enter the building. Please wear a mask that covers your nose and mouth.

Social distancing is still encouraged and only 4 clients will be allowed in the lobby at one time. Keep this in mind before traveling To the agency without scheduling an appointment or calling first (at the number listed above).

We ask that you call the agency or visit the OCS Customer Service portal to see if your questions can be addressed by your case manager without the need for a special visit to the agency.

In lieu of making cash payments at the agency, here are some other payment options you may way to consider:

Call the office at 419-354-9270 with credit/debit card information (NO ADDITIONAL FEE)

Writing a personal or cashier's check, money gram or money order to CSPC and sending it directly to:​
PO BOX 182372, COLUMBUS, OH 43218
You can also opt to:
Use our drop box in front of the building to submit your documents and applications.

Submit your documents via email at: woodcountycsea@jfs.ohio.gov.
.

Submit your documents via fax at: 419-354-9371.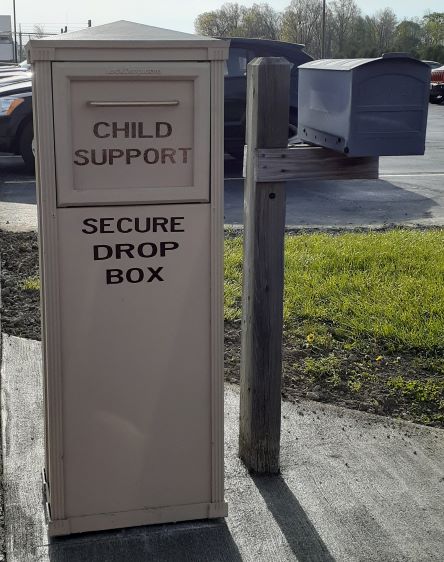 After hours drop-box:
Wood County Child Support Enforcement Agency now has an after hours drive-up drop-box that is located by their agency. Below is a list of documents that can be placed in the drop-box.
Please note the necessary information that needs to be included with your dropped off documents. Also, have your items in an envelope before placing them in the drop-box.
Forms being completed for the agency such as a paternity affidavit or financial affidavit.

*Copies*

 of documents requested by the agency such as a court order, birth certificate, Social Security card or insurance card.
Payments made by check or money order (cash payments are not recommended) with case information provided for processing.
Please do NOT submit original copies of documents as we cannot guarantee the original will be returned.
Please make sure the child support case number or SSN is written on the document before leaving in the drop-box.